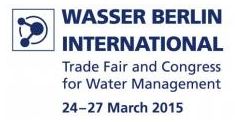 New challenges for the water industry call for innovative scientific, technical, political and administrative responses.  Under the theme of "Water and Sustainable Development", the 2015 Trade Fair and Congress focuses on sustainable and long-term concepts for the water industry and research.
The four-day congress examines these key issues in a national and international context.  It provides industry professional a platform for dialogue and an opportunity to exchange experiences, concepts and concrete technical solutions.
Our partner ACWUA will be organizing the Arab Pavilion with co-exhibitors from water utilities, and participate in the Forum 2:  Innovative Solutions in the MENA Region.